A healthy functioning nervous system is one of the key aspects to a child's health and well being. Chiropractic for kids is gentle, specific, and extremely complementing to their development while removing interferences from their nervous system as they grow!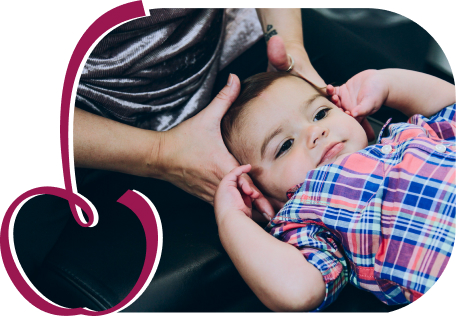 Click the necessary link to find out how we can help!
Jacob came into the office due to being gassy and irritable. "Dr. Amy has become a trusted resource for information about general health and wellness topics. Jacob greatly enjoys his time with her."
JAKE
"I can walk and dance again. I sleep better. No more neck pain or headaches."
CECILY
"My primary complaints were migraines 4-6 days a week and headaches 6-7 days a week, along with intense mid and lower back pain."

"Dr. Amy and Dr. Ryan have already altered my life in an incredible way. In just over one month, I now have markedly less mid and lower back pain, some days I can go several hours to half a day with no pain. Dr. Ryan also stopped my acid reflux with one adjustment!"
TONYA
"I've had migraines since my teenage years. They have gotten worse over the years, some last for several days. At their worst, I'm flat in bed in a dark room in excruciating pain. I have tried prescription meds as well as over the counter ones. A few help but not all the time; none take the pain completely away. I did not like the side effects of many of the prescription meds. I was having about 2 migraines a week. Now I have 1-2 a month! It has been liberating to say the least. Fewer headaches means more time living! I have been to other chiropractors, but have never had this relief from my headaches. I will never go anywhere else"
MELANIE
"I couldn't do the things I loved doing. My back pain was so bad that sometimes I couldn't even lift my daughter. I've tried ibuprofen, muscle relaxers, physical therapy and nothing really helped. So far, there have been vast improvements in my range of motion and my pain is at its lowest!"
ZACK
I have been dealing with daily low back pain and sciatica for the past 4 YEARS. I have tried physical therapy and other chiropractic care seeing little to no results. The pain had gotten so bad that I could not stand for long periods of time to cook for my family, or walk or hike...all things I loved doing! After starting care, I am now able to walk and take some hikes…I am completely pain free on most days! And I am able to cook!!!

"This is the miracle I have been looking for and I couldn't be more pleased."
MARCIE
Zia had been suffering from night coughs that would cause her to vomit, asthma attacks, wheezing, and stuffiness.

Since getting adjusted, she has no more coughing and wheezing.

Here is what mom has to say: "Dr. Amy is great; she makes Zia feel comfortable and safe. She always explains what she plans to do before she does it and that takes away the anxious feelings Zia gets. It feels like visiting friends instead of a trip to the doctor."
ZIA
"My second pregnancy everything seemed like it was going similarly as the first except for my belly was ALL out in front. At 35 weeks my midwife determined that baby was head up and suggested I schedule a external cephalic version (ECV), where an OBGYN attempts to manually "flip" the baby. Feeling very apprehensive about the procedure and the risks vs. benefits I messaged my family. My sister in law suggested I contact my former chiropractor from Southern Oregon to see what suggestions she might offer. She suggested I find a chiropractor in my area who is certified in the Webster method of adjusting women's pelvis/hips during pregnancy. I called the chiropractor I had been seeing for the past five years to see if they were certified and to my dismay they were not. My former chiropractor had given me a link to icpa4kids.org where I could search for Webster certified chiropractors. Dr. Amy was listed on the site so naturally I called right away to make an appointment."
KELSIE
Mom brought Tauriel in post-frenectomy due to restrictions in her latching/sucking, acid reflux, spitting up A LOT after every meal, and bad gas.

Tauriel had a tongue tie revision at 3 weeks old which helped with the latching, but did nothing for the reflux. Mom also explains that Tauriel was so gassy she would scream in pain.

Mom says since starting her adjustments, Tauriel has no more reflux, no more gassy pain, still breastfeeds successfully, and has had only one mild cold!
TAURIEL
Mom brought in this sweet baby girl after her tongue tie revision to help with latching, nursing and to support her immune system and overall health!
KHALEESI
I can't say enough good things about Dr. Amy, Dr. Ryan and their whole team. All of them are so kind, personable, and are so good with our two girls. My toddler looks forward to her visits to see everyone in the office (and we do too of course 😁) Our almost 3 year old has been seen here since she was 3 months old and our infant has been seen by Dr. Amy since she was 3 weeks old. The benefits from chiropractic care has been amazing and way more than I ever expected. We came to see Dr. Amy and Dr. Ryan because our oldest was having issues with nursing. With her adjustments her nursing became more efficient and less painful and her bowel movements became more regular. Our youngest daughter's neck was noticeably pulled to one side after birth and it was corrected in no time. Both girls always sleep better and longer after their visits. We go to our regularly scheduled visits but they always get us in for extra visits if our busy toddler had a weird fall or even if she's not feeling good to help boost her immune system. The doctors are very knowledgeable and they are always asking questions to make sure we are getting the care we need and explaining what they are doing especially with our kiddos. We always leave happy and look forward to our future visits. The benefits of our chiropractic adjustments, and the abundance of information and tools they give us to have a healthier lifestyle are priceless.
Angelia, Maizie, and Hazel
Let me start off by saying that the whole group of people who work here are warm and kind! My son started seeing Dr. Amy when he was about 3/4 months old for torticollis and some flattening on his head due to that. Along with those issues my son was suffering from severe GERD and sleep issues. We met her and right away she was attentive and caring to the needs of my son. She listens wholeheartedly and is active in making sure you or your child's needs are met. My son is now 9 months old and with the help and care from Dr. Amy not only has my sons Torticollis resolved his head shape is beautiful! We even got to bypass putting him in a helmet. His GERD has also resolved and he has been off meds for 2.5 months now. The biggest thing for me is he has hit all his milestones faster then expected and that's coming from him being behind before. She has made such a difference in my son's quality of life and health! I'm so glad we found her! My son even gets excited when he sees her! He loves his Dr. Amy time!
Dierks
I can't say enough about how thankful I am to have found Dr. Amy and Dr. Ryan! From the time my daughter was about four months old until we started seeing Dr. Amy and Dr. Ryan when she was close to 18 months old she suffered from chronic ear infections back to back she would take an antibiotic and a week later have another one. We tried tubes and they didn't last more than a week as it was hard to get tubes in with a current infection that we couldn't get rid of, after trying a injected antibiotic that did not work I felt hopeless as a parent. I did not know how to help her and the ear nose and throat doctor did not either. Then one day a coworker told me about Dr. Amy and Dr. Ryan and that they may be able to help after hearing about what we had been going through with my daughter my thoughts were well that's just a wild idea because I have never heard of chiropractic care doing anything other than fixing peoples back, neck and shoulders but I was willing to try just about anything and I'm so thankful I did because after just about a month of having her adjusted her ear infections were GONE we haven't had one since and she is now almost 4! So much thanks to Dr. Amy for taking the time to look at my child like the person she is and not just another number, asking the questions to figure out the root cause .I was adjusted throughout my last pregnancy and had a great experience, my husband suffered from headaches that they were able to give relief to and now all 3 of my kiddos are adjusted regularly to keep their immune system's up and stay healthy. I am so grateful to have found such wonderful doctors and their staff is amazing as well! Above and beyond, the girls go out of their way to make sure your experience in the office is the best. We just love them all!
Amanda, Sophia, Dev, and William
Where do I begin?! I first saw Dr. Amy when I was pregnant with our fourth daughter. Baby wouldn't go head down so Amy performed the Webster on me and it worked! Shortly after the birth of our daughter I took her in due to some slight birth complications. I couldn't have trusted anyone more with my newborn. Dr. Amy teaches you as she works and I appreciate that so much. Upon talking more with her we decided my 5 year old should be evaluated for her speech. She had skipped crawling and went straight to walking and has a slight delay in speech. After weekly visits for a few months, my 5 year old's speech HAS IMPROVED! She is making sounds that she hasn't been able too. We got the right and left brain communicating. And my 5 year old just ADORES Dr. Amy. The staff is always chipper and helpful and caring. I will now be seeking care for overall health and I couldn't be more excited.
Sophia, Jane and Scarlete
I highly highly recommend Dr. Amy and Dr. Ryan. I'm not going to lie, I was a little skeptical that Dr. Amy could help my 2 year old son who has suffered from an extremely low immune system, allergy induced asthma, a dairy allergy and a constant cough that never ceased. Our son had tubes put in his ears from constant ear infections the first year of his birth and a slew of other health issues that never seemed to go away or get treated. Since we have started taking him to Dr. Amy in Dec. He has now made almost a full 180 change. We no longer struggle from ear infections and have not had to use medicine or his Inhaler since after the first few adjustments. His cough is gone and he hasn't had a cold or any other issues so far. My little boy has been able to play like a normal toddler and we haven't been in and out of the hospital like his first year of birth was like. The change we have seen in him and the love and care Dr. Amy and the staff give Luke has made me a client for life! I also go to Dr. Ryan as I suffer from tension headaches, knee and shoulder pain from a military injury and in the few months we have been going I have noticed an extreme change. I am able to run around with my son, exercise again and focus at work. The passion these two bring to help with not only whole body health but also to truly Invest in each client and their families is such a blessing. I'm so grateful I pushed my skepticism aside and gave them a chance. They know their stuff!!!! Please try them out! Especially if you have kiddos! Worth all the time and every penny.
Andrew, Ashley, and Luke
You deserve amazing health!
Contact us today with any questions!
633 Lancaster Dr NE,
Salem, OR 97301
Phone: 971-209-7773
Fax: 971-334-8896
Monday :
Tuesday :
Wednesday :
Thursday :
Friday :
Saturday :
Sunday :
8:30 am – 10:15 am / 3:00 pm – 6:15 pm
3:00 pm – 6:15 pm
8:30 am – 10:15 am / 3:00 pm – 6:15 pm
3:00 pm – 6:15 pm
Closed
Closed
Closed